"Trails, Sails, Rails and Wheels -
Cambridge Transportation History"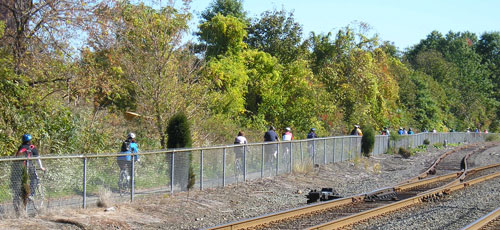 Saturday May 17th, 2008

Orientation at 10:15am at Cambridge Common; ride departs at 10:30am
---
Join the Cambridge Bicycle Committee for a leisurely ride through the streets of Cambridge as part of the city's annual GoGreen Month activities. The theme of this spring's bike tour is transportation history in Cambridge from pre-colonial times to the present (and maybe a glimpse of the future).
We start at the Cambridge Common for a ride just over 11 miles long. The ride should take a little more than two hours, and will include several intermediate stops for short theme-related talks. We'll end up at the brand new North Point park for a snack. After that, we'll lead those interested back to the starting point at the Cambridge Common (another 2.5 miles).
The ride will be escorted by the Cambridge Police Department's Bike Patrol.
Please arrive at the start by 10:15 for a 10:30 departure.
Rain date May 18, same time. Announcements regarding rain will be sent to the ride email list and posted at cambridgebikes.org
There is no registration or charge for the tour -- just show up and have fun.
---
Click here for a ride flier that you can hand out to people (please do!)
(Same flyer here, but two copies per sheet.)
---
Organized and supported by:
Cambridge Bicycle Committee:
www.cambridgema.gov/CDD/et/bike/bike_com.html
617-349-4629
Cambridge Community Development Department
www.cambridgema.gov/CDD
617-349-4600
Cambridge Police Department:
www.cambridgema.gov/CPD
City of Cambridge:
www.cambridgema.gov
---
Email info [at] cambridgebikes [dot] org for more information.