Cambridge-Somerville
Go-Green History Bike Tour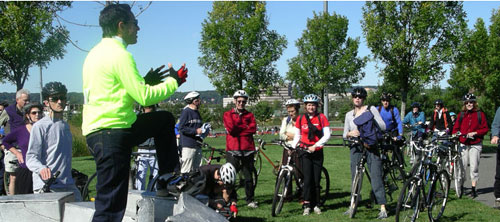 Saturday May 21st, 2005
---
The ride was a huge success with 150 riders and a great experience for all!
If you enjoyed this ride, come to the Boston Bicycle Festival on Sunday, September 25
---
Cambridge and Somerville are joining together for a 9-mile bike tour through both cities with historical commentary at stops along the route. This year's route minimizes up-hill inclines and should be suitable for young riders.
Orientation at 10:00am at Cambridge Common; ride departs at 10:30am
Refreshments at the ride's middle behind the Davis Square T around 11:30am and at the end, the former Somerville Police Station on Bow Street, Union Square, around 1pm
Rain date May 22, same departure time.
There is no registration or charge for the tour -- just show up and enjoy!
---
Click here for a flier for the ride
Tour Handouts:
Route Map [big file (6.3 MB)] [small file (1 MB)]
Cue Sheet
History Pamphlet [2 pages 11"x17" (3.4 MB)] [4 pages 8-1/2"x11" (3.4 MB)]
Route maps, cue sheets, and history pamphlets were handed out at the tour.
---
Organized and supported by:
Cambridge Bicycle Committee:
www.cambridgema.gov/CDD/et/bike/bike_com.html
617-349-4629
Somerville Bicycle Committee
www.ci.somerville.ma.us/Department.cfm?orgunit=BICYCLE
617-628-8895
Cambridge Historical Commission
www.cambridgema.gov/Historic
617-349-4683
Cambridge Historical Society
www.cambridgehistory.org
617-547-4252
Somerville Historic Preservation Commission
www.ci.somerville.ma.us/Division.cfm?orgunit=PRESBD
617-625-6600 ext. 2500
Cambridge Community Development Department
www.cambridgema.gov/CDD
617-349-4600
Cambridge and Somerville Police Departments
City of Cambridge:
www.cambridgema.gov
City of Somerville:
www.ci.somerville.ma.us
---
Contact Tim Ledlie (ledlie [at] post [dot] harvard [dot] edu) for more information.
More bicycle rides planned by the Cambridge Bicycle Committee.
---
Relevant Links: