The Cambridge Bicycle Committee Presents
The 6th Bow Tie Ride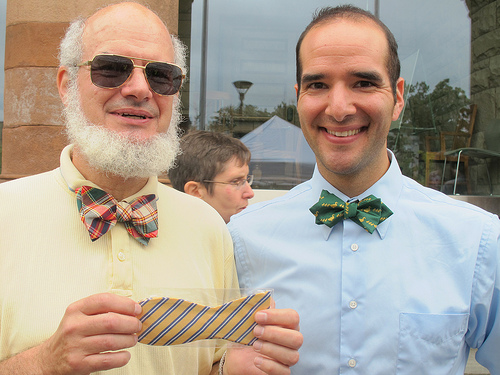 Ride CANCELLED due to bad weather
Sunday, September 30, 2012
Orientation at 12:45 PM at the Cambridge Library, 449 Broadway
Ride departs promptly at 1:00 PM
Ride FAQ
Ride Route Map
Bow Tie Ride Flyer
---
Ever notice that the city of Cambridge is shaped like a bow tie? Come see for yourself, at the Cambridge Bow Tie Ride!
Join us for 13 scenic miles by bike, beginning and ending on the grounds of the beautiful and historic Richardsonian Cambridge Main Library.
Riders who feel inspired to buy a bow tie for the ride can get a discount at the OoO Tie website by entering the code BOWTIERIDE2012 &nbspIf you feel lucky, enter the drawing at the end of the ride for a chance to win a free bow tie donated by OoO Tie.
Bow ties are optional but a bike is essential. If you need to rent one, contact Urban Adventours. Tell them you're riding with us and you'll get an all-day rental for only $20.
We're excited to welcome three new food sponsors to our ride. Hi-Rise Bread Company, home of indulgent treats, will be providing our mid-ride snack. At the finish, Redbones, renowned for its barbecue, and Fuji, an exciting new sushi restaurant in Kendall Square, will be rewarding all riders.
This will be a gorgeous ride at an easy pace on mostly level terrain. No rain date: Heavy rain cancels. Rain announcements will be posted here on the morning of the ride.
Like all our tours, this ride is free of charge. Thanks to our sponsors for their support. Check back here over the coming weeks for additional sponsor benefits.
Our Route:



View Fall 2012 Bow Tie in a larger map
---
Email info [at] cambridgebikes [dot] org for more information.