Pedaling the People's Republic –
A History Of Political Activism In Cambridge
Sunday October 4th, 2009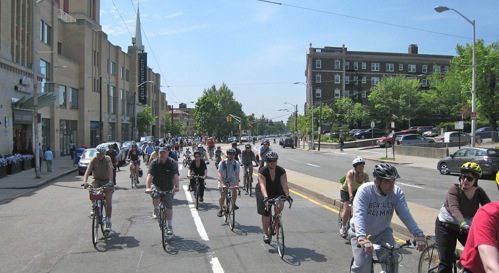 Meet at the Cambridge Common near Mass Ave
Program begins at 10:15am
Ride departs at 10:30am
Ride FAQ
Click here for a ride flier (5.5×8.5") to print and post.
Same here, buf two per page.
Click here for two-sided, four-per-page cards (3.2 Mbytes).

Click here to download the ride brochure with map.
Download just the ride map here.

---
Join the Cambridge Bicycle Committee and the Cambridge Historical Society on a bicycle tour exploring the history of Cambridge activism. From its creation by a group defined by their religious and political extremism, Cambridge has been the home of people with strongly held convictions. The city played a central role in the American Revolution and the abolitionist movement before being named "The People's Republic" for its role in the anti-war, civil rights, tenant's rights, gay rights, sustainable development, and environmental movements. Pedaling the People's Republic will take participants on a tour of past political activity from the Revolution to the grass roots movements of the 20th century.
We start at the Cambridge Common for a ride a little over 10.5 miles long. We will be making a number stops along the way for brief theme-related talks. The ride will stop at Lechmere Canal Park for free refreshments. After the break we'll lead those interested back an additional 2.4 miles along Cambridge Street to the starting point at the Common.
The ride will be escorted by the Cambridge Police Department's Bike Patrol.
Please arrive at the start by 10:15am for a 10:30am departure.
No rain date. Heavy rain cancels. Announcements regarding rain will be sent to the ride email list and posted at cambridgebikes.org
There is no registration or charge for the tour — just show up and have fun.


View Pedaling the People's Republic - Fall 2009 in a larger map
---
Organized and supported by:
Cambridge Bicycle Committee:
www.cambridgema.gov/CDD/et/bike/bike_com.html
617-349-4600
Cambridge Historical Society:
cambridgehistory.org

Cambridge Police Department:
www.cambridgema.gov/CPD
City of Cambridge:
www.cambridgema.gov
---
Email info [at] cambridgebikes [dot] org for more information.
More bike rides planned by the Cambridge Bicycle Committee.
---