The Cambridge Bicycle Committee Presents
The 3rd Bow Tie Ride*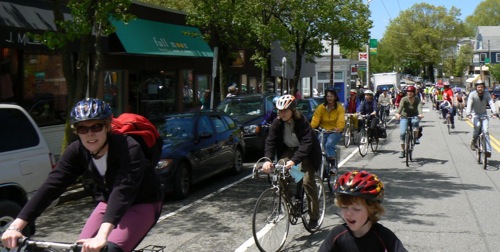 *And Minuteman Bikeway Celebration
Sunday October 5th, 2008
Orientation at 10:15 AM at Cambridge Common
Ride departs promptly at 10:30 AM
---
"Your bow tie can assume any form you want, from the conservative pout to the boastful swagger. Despite any unfounded rumors you may have heard, tying a bow is as easy as tying your shoe." -Carrot & Gibbs bow-tying guide
---
Ride FAQ
How to tie a bow tie (GIS)
---
Ever notice that the city of Cambridge is shaped like a bow tie? Come see for yourself, at the Cambridge Bow Tie Ride!
After a two-year hiatus, the bow-tie ride is back. Join us for 14½ scenic miles by bike, as we circle our bow-tie shaped city's eastern perimeter, tie the knot in the center of Cambridge, then loop around the western border. We've reconfigured the usual bow-tie shaped route to coordinate with the celebration of the Minuteman Bikeway's induction into the national Rail-Trail Hall of Fame.
This year's ride will include a short rest break at the halfway point on Memorial Drive at Longfellow Park, followed by a stop at the Cambridge Minuteman gateway near the Alewife T station for the kickoff of the Minuteman celebration.
This will be a gorgeous Autumn ride, at an easy pace on mostly level terrain. For those looking for a shorter ride, join up at the half-way stop at 11:30 AM at Longfellow Park.
No rain date: Heavy rain cancels. Rain announcements will be posted here on the morning of the ride.
Like all our tours, this ride is free of charge. Wear a bow tie, or come as you are!
The Rails-to-Trails Conservancy has named the extremely popular Minuteman Bikeway as the fifth inductee to the national Rail-Trail Hall of Fame. Celebrations are scheduled in each of the communities along the 11-mile path throughout the afternoon as follows:
12 Noon — Cambridge Minuteman gateway at Alewife
1:30 PM — Arlington Jefferson Cutter House
2:30 PM — Lexington Visitor Center
3:30 PM — Bedford Depot Park
The Bow Tie Ride will stop for the celebration's kickoff, which will include refreshments. After the stop, you can return to the Cambridge Common with the bow-tie riders or ride the Minuteman to the later events.
---
Click here for a small two-sided 4-up ride flier you can hand out.
Click here for a single page 2-up flier you can post.


---
Email info [at] cambridgebikes [dot] org for more information.