Cambridge Parks and Playgrounds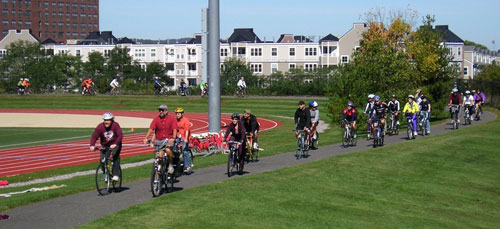 Sunday September 30th, 2007
---
Orientation at 10:15am at Cambridge Common; ride departs at 10:30am
Join the Cambridge Bicycle Committee for a leisurely ride through the streets of Cambridge. This fall's ride will pass by, around and through a good fraction of Cambridge's nearly 100 parks and playgrounds. We will make two stops along the 13.5 mile route for short talks. A third stop will be near the end of the ride at Gold Star Mothers (Gore Street) Park in East Cambridge, where refreshments will be provided. The Cambridge Police Bike Patrol will escort the ride.
The ride begins and ends at Cambridge Common (just north of Harvard Square along Mass Ave). Please arrive by 10:15 am. The ride will depart at 10:30 and take about two and a half hours.
The rain date is Sunday October 7th, same time. Announcements regarding rain will be sent to the ride email list and posted on www.cambridgebikes.org.
Supporting content for the ride provided by the Cambridge Community Development Department and the Cambridge Arts Council.
There is no registration or charge for the tour -- just show up and enjoy!
---
Please print out a few fliers and spread the word: [double sided] [single sided]
Brochure which will be distributed at the ride: [8.5x11] [11x17]
---
Email info [at] cambridgebikes [dot] org for more information.